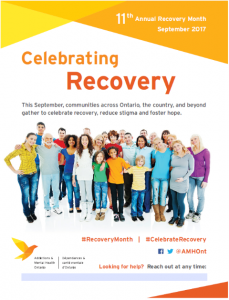 September, We Celebrate Recovery
This September, communities from across Ontario, Canada, and the world, come together to celebrate the many pathways to recovery, reduce stigma, and foster hope for overcoming addiction.
This year is the 11th annual celebration of recovery in Ontario, with the first recovery awareness campaign held in October 2016. Since then, the movement has gained momentum, with over 15 communities in Ontario participating.
Recovery Month spreads the message that with the right services and supports, recovery from addiction is possible, and calls for addiction to be treated and funded the same way as other illnesses.
Recovery month is celebrated in many different ways, including events such as Recovery Breakfasts, rallies, social media awareness, and more. A key component of recovery month involves individuals sharing their personal stories about their recovery, and the positive impact it has had on their families, communities and workplaces.
Join us at our Recovery Breakfast on September 14th. Click here for more details.
Looking for help?
For information about services and supports available to you, please contact:
Your local CMHA:
If you are in crisis, please call 911 or visit your local emergency department.